Healthy Cafe Menu Ideas - Breakfast Menu
We manufacture and deliver healthy gourmet granola and Paleo or bircher muesli to Australia's discerning cafes.

Our famous Maple Nut Crunch is a Gold Medal Winner at the Great Taste Awards UK. Maple Nut Crunch by Plum Foods is a really crunchy vegan granola that has no dried fruit and so is perfect for the Acail Bowl. It has Majority Organic or pesticide free ingredients.

Our Mulberry Tree brand has a variation of that called Roasted Almond Crunch. Roasted almond crunch has no organic ingredients so slightly cheaper and has become the leading Acail bowl granola Australia wide for Acai Bowl cafes and takeaways.

Great Cafe Food Ideas - Cafe Meal Ideas
When well-presented and served with a low-fat yogurt and beautiful berries or fresh fruit, a great granola becomes an easy healthy breakfast menu idea that is also loaded with nutrients, vitamins and probiotics. Your customers will appreciate another healthy menu option and see you as a healthy cafe.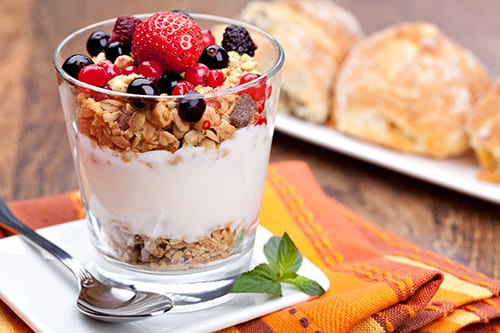 Our own Plum Foods brand is known for granolas with super crunchy texture and tasty profile as low sugar, nutrient rich, breakfast cereals. They are also majority organic and or pesticide free in ingredients that add to the taste and nutrient value.

Separate to our 500g consumer packs for grocery retailers, Plum Foods products offer special 1kg cafe packs and 10kg bulk catering packs to cater for the foodservice industry, perfect for cafe menu ideas. Perfect for frozen Acai bowl meals.
Serve a healthy Crunchy Granola
NB: Website shows retail price unless registered & logged in.
Register for wholesale access Now and order!
Or, Request Samples for your cafe Now :-
Opera Foods office: Ph 02 4954 4077
Or contact Shane direct on 04 1726 3933
---

Plum Foods is a wholly owned subsidiary of Opera Foods Pty Ltd. See our blog for cafe food recipes for granola as a food served in a cafe. Great cafe menus equal great cafe food. Easy recipes make breakfast ideas easy.