Opera Foods Group Loyalty Program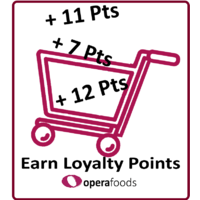 Our Loyalty Program
The Opera Foods Loyalty Program offers loyalty reward points for all consumer orders over $50 which translate to great savings on your groceries for your next order,
Our Program offers 3 Points for the first $50 of any product purchase portion. (equivalent to 6%) Then .03 points ( 3%) for every dollar of product over $50 and up to a maximum earn of 20 reward points per transaction ($20 Value).
When your shopping regularly then these points accumulate nicely. Each point is redeemable for $1 in our store against your next order in lots of $10,
Redemptions work in multiples of $10 only. ( maximum any one time of $30 and min $10 each redemption)
Loyalty Program FAQs
1. How do I collect loyalty points?
Easily that's how! Every dollar you spend at Opera Foods online store at our standard retail prices can earn you loyalty points. We offer the following rewards. Click here to Register and sign up.
10 POINTS UNLOCKS $10 OFF YOUR NEXT PURCHASE
20 POINTS UNLOCKS $20 OFF YOUR NEXT PURCHASE
30 POINTS UNLOCKS $30 OFF YOUR NEXT PURCHASE
2. Can I earn points in-store and online?
Sorry There is no bricks and mortar store. You can only earn points through this online store. As long as you log-in to the same account with the same email registered, as you make purchases in-store your points will be automatically combined and tallied.
3. How long do my discount Loyalty Points last?
Once you have paid for an order and unlocked a reward level, that reward level is valid to use in-store and will show in your account when logged-in. However each point expires after 60 days from earning date. So it only works for regular shoppers.
4. If I choose not to use a discount can I keep earning points?
Of course! You will continue to accumulate points until you redeem a discount. However each point expires after 60 days
5. How do I check my Points balance?
You balance is always available in your account and can be checked by logging into your account at any time.

6. Do I have to set up an online profile to start getting points?
Not Really. Its simple. You can register an account either before or with an online purchase. When you first order. If you supply your name and address and email & phone details for the purposes of the delivery, then your account is set up just the same, and points will be allocated automatically. You will get and email advice of point accrued with any purchase. All you really need to do is stick to us for your gourmet and organic grocery orders and then regularly claim available points in your account when you next order.

You can also choose to opt in to our mailing list (See Below) with same email and get a regular advice of any regular special and new products.
7. I'm still confused, can I ask a question?
Of course you can! Please phone Customer Service Manager Shane on
04 1726 3933
if you have any queries.