Best New Gourmet Food Product
By: Admin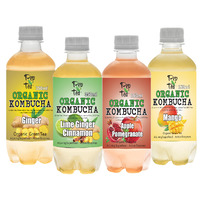 Best quality low sugar Organic Kombucha now selling at soft drink prices, and in popular flavours. Pep Tea's Organic Kombucha.
Best New Product, Pep Tea's Organic Kombucha
Best quality at $2.95 RRP

Not available in the Major Supermarkets
The Science
Pep Tea Kombucha is unlike other Kombuchas. It is brewed in a modern purpose built kombucha brewery under strict controls that make it highly consistent. It is a natural raw product but it is also refined by filtering it after the brewing to reduce the sediment and cloudiness you see in home made kombuchas. It is also shelf stable and needs no refrigeration until after it is opened.
The Quality
Pep Tea Kombucha products are Certified Australian Organic as they are made from a consistent perfect brew using only organic ingredients. They are a high quality drink with beneficial enzymes, probiotics, anti-oxidants, minerals and organic acids, but they are also :-
- Low Carb - Low Sugar - Low GI - Gluten Free - Lactose Free - Fat Free
- Caffeine Free - Preservative Free - Certified Australian Organic
The Favourite Flavours
Pep Tea has taken 5 years of market research and customer preferences for multiple flavours to bring you the 4 flavours that are far and away the most universally popular kombucha flavours.
The Price - only $2.95 RRP
Now your customers can enjoy the best quality kombucha at an affordable price for a refreshing alternative to soft drinks

Other New Products
We have introduced several new products in the past 12 months and revised our pricing. Please come and have a look at our current range.

(All of our products are retail ready with barcodes).
Please check our Blog bulk food news blog at Opera Foods