Crispy Apple Paleo Gluten Free from Mulberry Tree
By: Admin On: 31 January 2019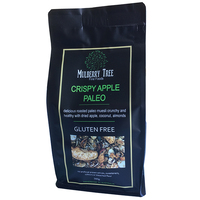 A delicious paleo whole food easy healthy breakfast meal from Mulberry Tree Fine Foods brand
Whilst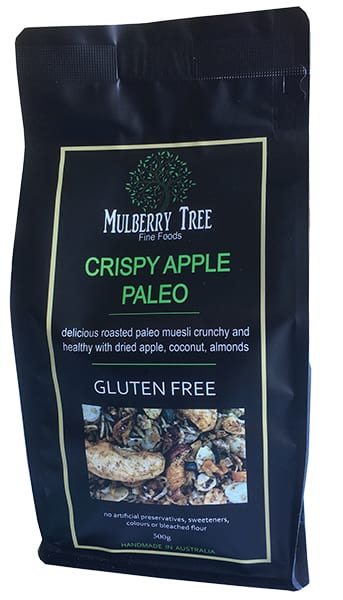 really a muesli mix, Crispy Apple Paleo Gluten Free from Mulberry Tree Fine Foods is more like a granola as it is lightly toasted. This paleo granola contains lots of dried sliced apples, coconut, and sultanas, which makes it crunchy and chewy when combined with the seeds and healthy almonds.

This tasty low sugar paleo will make you feel full and will satisfy your hunger, sustaining you through the day as it is loaded with natural wholefood fibre, whilst giving you a great nutritional balance.
Ingredients are:-
Dried Apples, Dried Cranberries, Coconut Oil, Almond Flakes, Shredded Coconut, Honey, Sultanas, Blanched Almond Meal, Sunflower, Pepitas, Lindseed, Cinnamon, Baking Powder, & Vanilla Powder.
An Easy Healthy Breakfast
Served with almond milk and topped with fresh berries our Crispy Apple Paleo Gluten Free makes an easy healthy breakfast that is tasty as well as nutritionally sound.(or just eat it as a snackfood that is healthy, either way you will love it).
Buy Crispy Apple Paleo Gluten Free from Mulberry Tree the healthy breakfast cereal Company, or order online here from their parent company and Paleo Granola Gluten Free manufacturers Opera Foods Pty Ltd.
Mulberry Tree is a division of Opera Foods. #mulberrytree #operafoods #paleo #paleogranola #paleomuesli #paleocereal #paleorecipes
For more information about Gluten Free Foods see our blog category.