Kombi Mug FREE Gift Offer
By: admin On: 15 May 2019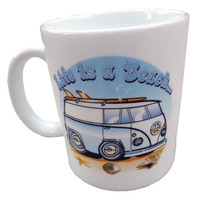 Here is a great Free Gift when you order more than $99 worth in a consumer direct order.
Kombi Mug - Free When you spend over $99
Wrap Your Smiling Gear Around this!
Ideal for Kombi Enthusiasts
Why Not Grab its as a Freebie - Spend $99
For The Gal or Guy who has everything
The Life is a Beach Surfy or Hippie theme mug features an image of a blue blind van smicked up with a surf board on the roof and a peace symbol for a bonnet badge.
The van is shown in a beach scene with shells and a logo of "Life is a Beach. The mugs come packed individually in a plain white inner box. Large 9.5cm tall by 8cm diameter this coffee mug is a high quality KiIn Fired porcelain mug that is microwave and dishwasher safe Kombi
Opera Foods are offering this unique Mug as a special one off bonus gift to consumers buyers who make a bulk order of more than $99 of of products.
This offer ends 30th June 2019

You can also Buy it separately for $12.00 each while stocks last.
Opera Foods are wholesale food suppliers, specialising in delivering, gourmet and organic wholefood products . We supply Cafes, IGA Stores, Delis, and Greengrocers wholesale and also sell direct to the public through our webstore. We deliver overnight to Sydney Melbourne and Brisbane and only slightly longer to other regions.
NB Offer not available to retailer customers and cafes who are buying at our low Wholesale rates.