Maple Nut crunch with Yoghurt & Fresh Fruit
By: Admin On: 31 August 2018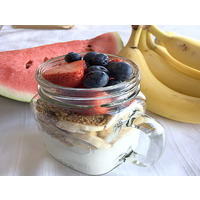 Where to buy Maple nut Crunch toasted crunchy granola in Sydney to make an easy healthy breakfast with yogurt and fresh fruit.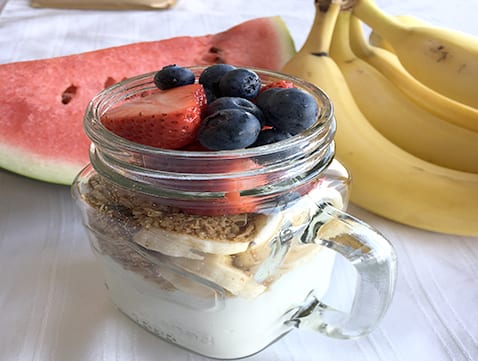 Plum Foods is an old Australian brand manufacturer of organic gourmet granola & muesli.

We specialise in predominately organic products and also offer organic oats for your porridge and organic wholemeal flour.

Plum Food's award winning Maple Nut Crunch has been used to make this beautiful easy healthy breakfast creation with low fat yogurt, Blueberries, Strawberries & Banana. Maple Nut crunch & yoghurt will go well with most fresh fruit toppings.

Buy Plum Food's Maple Nut Crunch organic granola in Sydney at; About Life Stores, Taste Organic stores, Scoop Wholefoods Stores, Greenwood Grocer North Sydney, Fourth Village Mosman, Parisis Foodhall Rose Bay, IGA Market Central Wentworth Point, Craigs Cheese Shop BONDI JUNCTION, FruitEzy Chatswood & Chatswood Chase, The Health Emporium BONDI, Vaucluse Fruit Shop.

You will also find Maple Nut Crunch served at many Sydney Cafes (because its the best).
Plum Foods is a subsidiary of Opera Foods. Buy Maple Nut Crunch online
https://www.operafoods.com.au/maple-nut-crunch-organic-granola-500g-plum-organic