Ritchies New Lambton Store Re-Opening
By: Admin On: 12 March 2019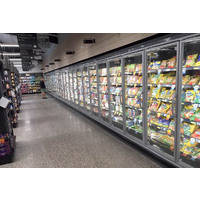 Dont miss the re-opening of the enlarged store at Richies New Lambton with its Local Brands section.
Come and check out the re-opening of the Ritchies New Lambton Store on Thursday 14th March.

The much anticipated opening will be well received by the locals and the new store is quite unique with an exceptional range of Products.

View the Bush Cookies Range.

See New Healthy Breakfast
Cereals.

See their Lolly Shop range here.

One of the key features at the re-opened store is the new Local Brands section where Ritchies deliberately focus on supporting grocery & produce brands from the local region such as Bush Cookies, Pep Tea's organic sugar free Kombucha, Mulberry Tree's Range of low sugar natural breakfast cereals, Finom Lavosh a flatbread cracker for dips and Cheese platers or corporate catering, The Lolly Shop confectionery and Plum Food's organic granola, muesli and porridge oats range making a wide range of healthy breakfast cereals.


Decor enhanced by historic local Images
The refurbished Store is a large modern supermarket with lots of space and has a nice feel-good experience for shoppers with its historic Newcastle decor images & signage.

Ritchies New Lambton now has a great range of offerings and in-store specialty counters that make it a one-stop shop for your groceries.
Here is an example of the historic local Newcastle imagery featuring a large photo of an old milk factory bottling plant shown above the milk fridges, where you will find every kind of milk.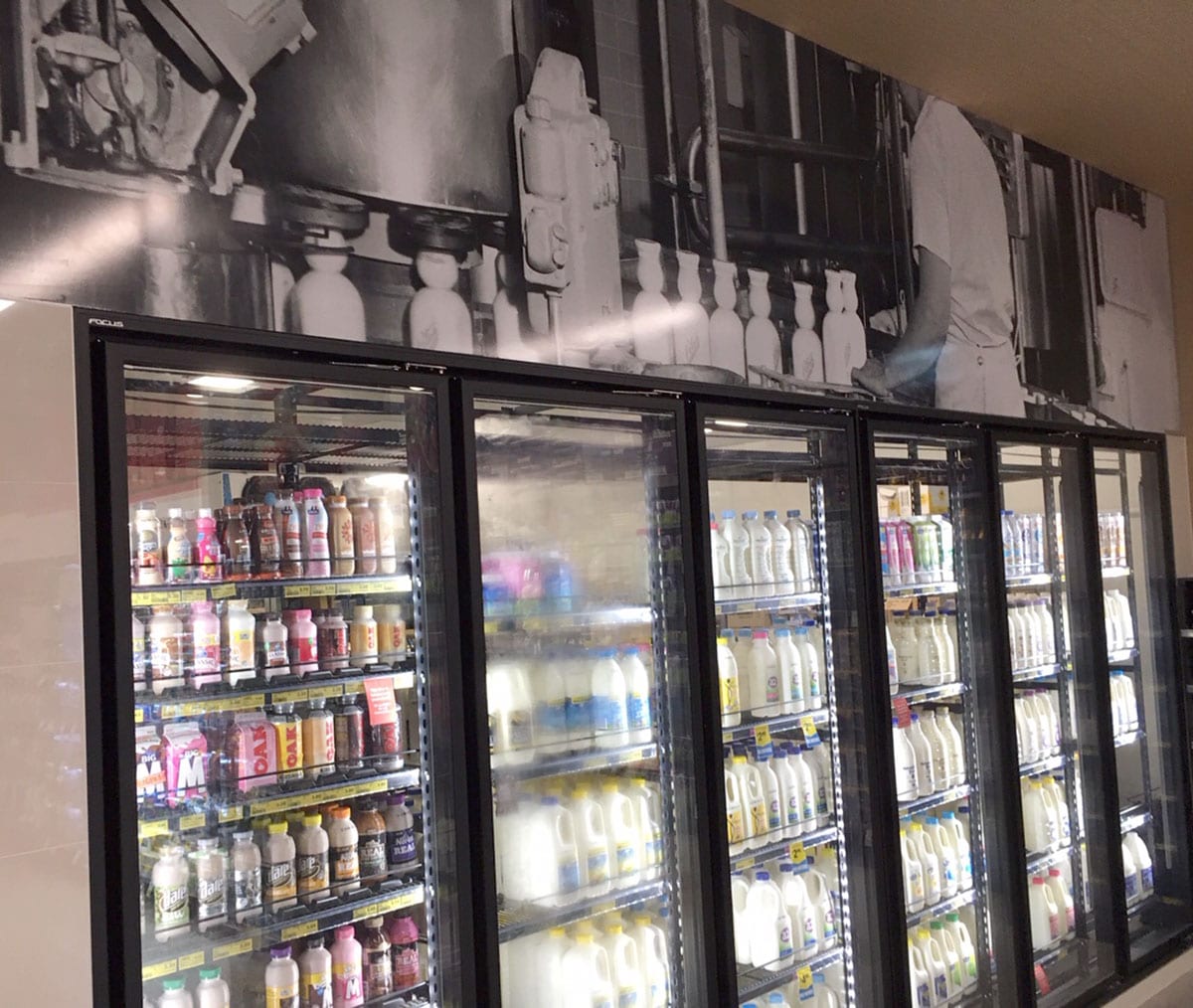 The size of this store is exceptionally large. It is not your average IGA Store. Parking underneath and adjacent is also a great feature for suburban convenience with great variety.
The re-opened extensions to Ritchies IGA New Lambton store is very centrally located in the combined Newcastle and Lake Macquarie Metro region at 73 Regent St, New Lambton NSW 2305.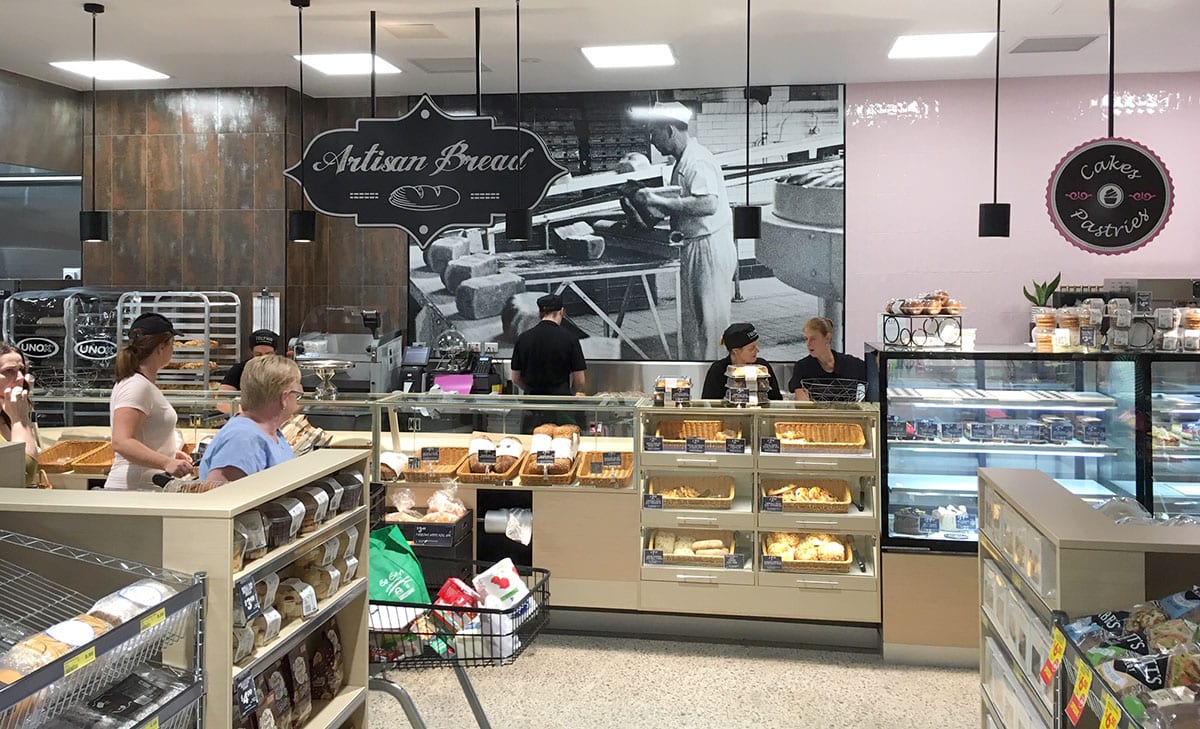 In-Store Bakery
One of the first things you notice in the store is the large bakery section. Ritchies offer a wide range of artisan breads and a good range of better style cakes and pastries as well as the usual budget bakery products.

You will also find a good selection of the popular sliced breads and related products.

One interesting additions to the bakery section is a popcorn baking section which bakes and bags fresh pop-corn right there in the store.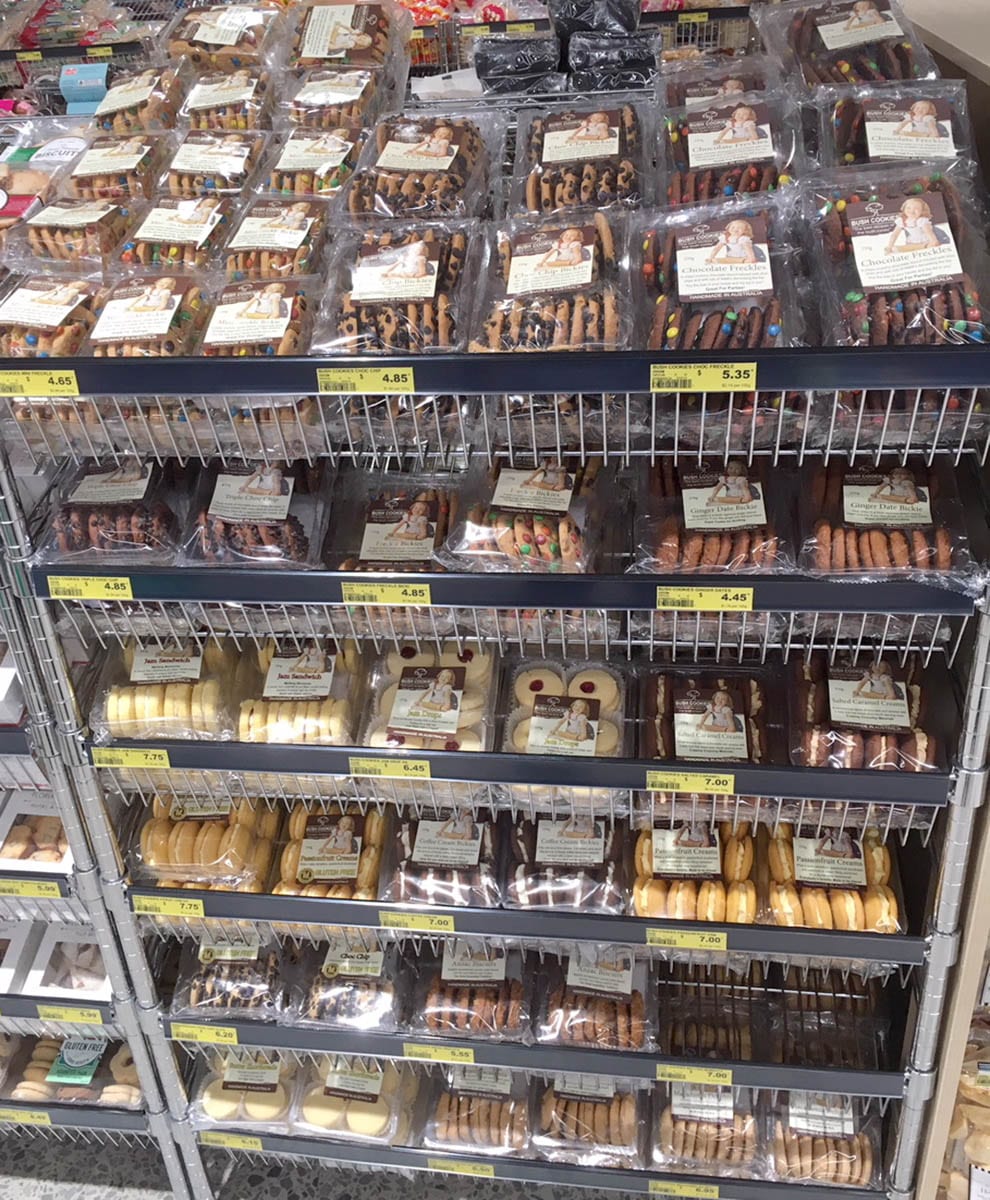 Bush Cookies Section
If your looking for a better biscuit or cookies for a high tea party, or even if your just fussy about your bickies, you will love the Bush Cookies stand. It is right next to the instore bakery and facing the checkout counters.

Bush Cookies is another local brand featured by Ritchies. Bush cookies have 18 different biscuit & cookies flavours including Their famous Freckle Bickies, and cream fill cookies like Salted Caramel and Passionfruit Creams. Also, Anzac Biscuits, Ginger Cookies, Macadamia Cookies, Jam Drops, Butter Shortbreads and Gluten free options.
Its a good Idea to keep a packet of these great cookies in your pantry as you never know when you will have unexpected guests.

Sushi Bar - Sushi & Co
Another Important difference Ritchies New Lambton offers compared to other supermarkets is their options for healthy take-away lunches featured by the Sushi & Co lunch or ready meals counter next to the Ben & Jerrys Ice Cream fridge.

If you love a healthy Japanese style meal you will enjoy their gorgeous variety of tasty healthy take-away prepared snacks and meals. Japanese cuisine is very healthy and Sushi & Co really know how to do sushi.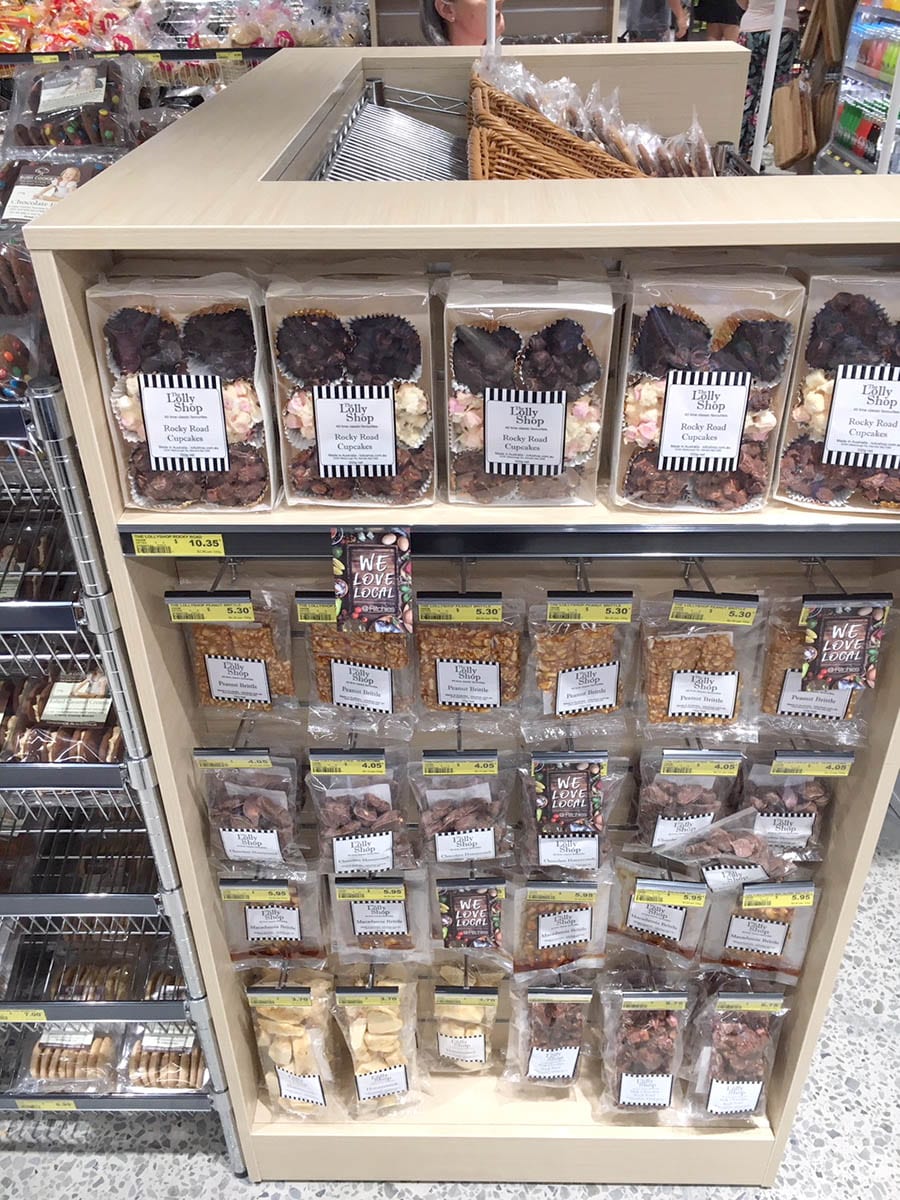 The Lolly Shop
Directly behind the Checkout counters you will find a shelf full of the Lolly Shop brand's confectionery. The Lolly Shop is another featured local brand at Ritchies IGA New Lambton.
Unique lolly products by The Lolly Shop featured here includes the Rocky Road Cupcakes with two each of three different chocolate Rocky Road delights in each pack (Milk Cholcolate, White Chocolate and dark Chocolate).
The Rocky Road also comes in a standard large 200g bar. Then you will find the old-fashioned Macadamia toffee brittle as well as peanut brittle. Just like your Nanna used to make.

Another great local The Lolly Shop product is the plain honeycomb bags or choc coated honeycomb.

Fresh Seafood, Deli & Cheese Shop Counters

Supermarket extras like a fresh seafood counter, a deli counter and cheese shop are nice welcome additions to a local shopping strip supermarket, that is well away from the big shopping centres where you struggle for parking.

How about Gift Wrap and Cards. That is a nice convenience.
Fruit & Vegetables and Butchery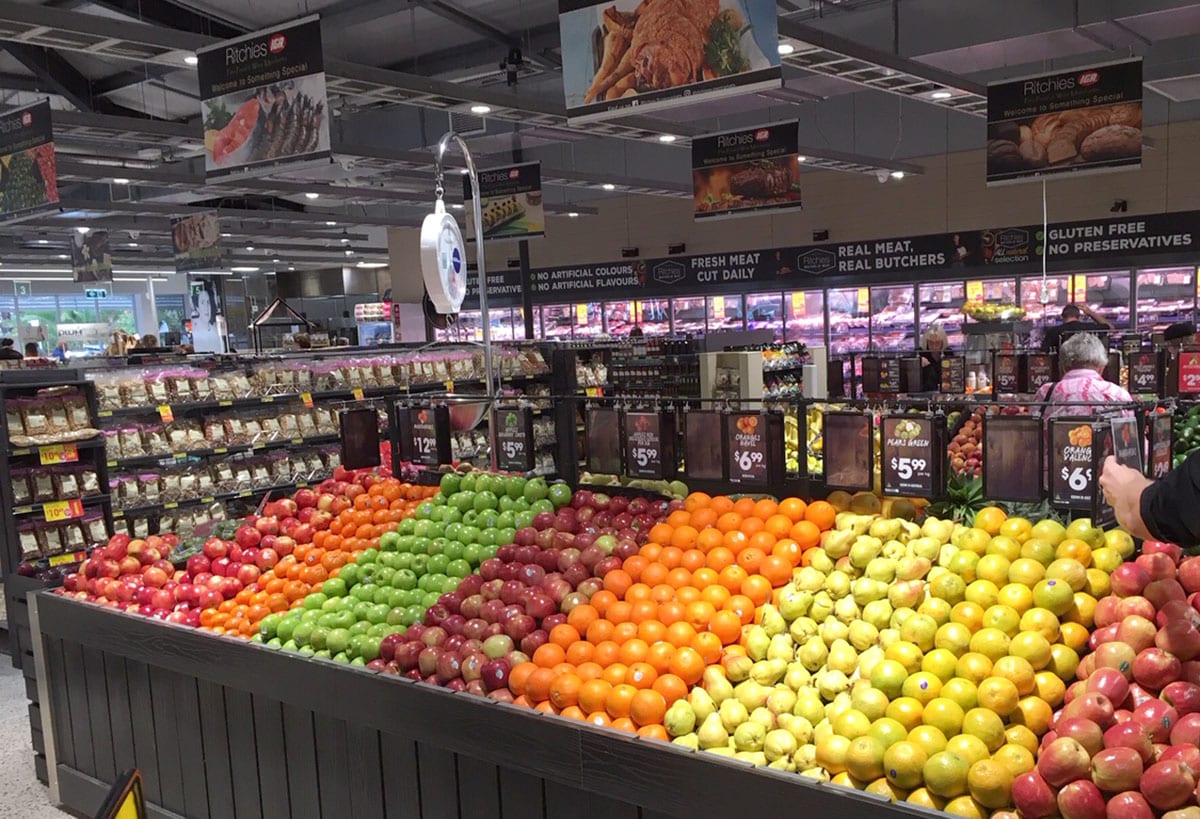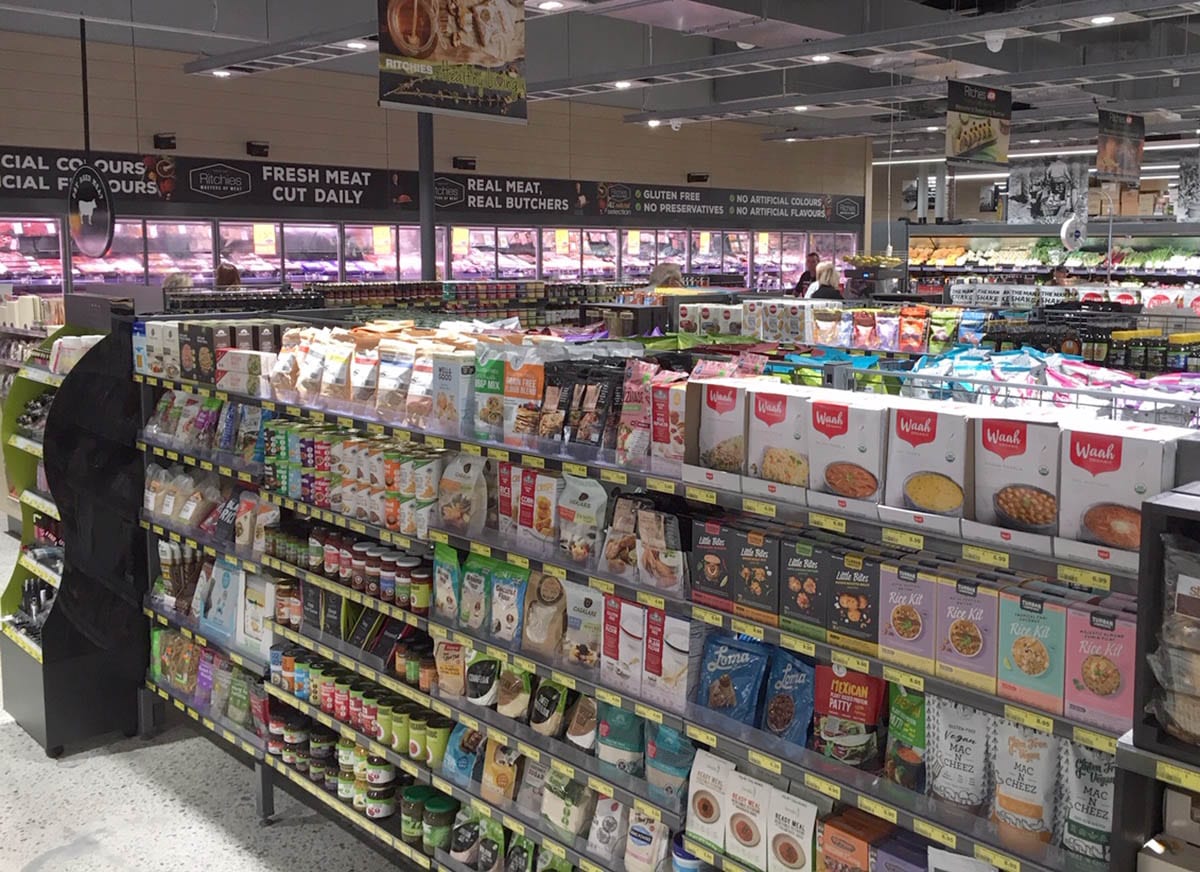 You always know you are going to get great fruit & veg from your Ritchies IGA store, but you may not expect some of the other sections in their big variety food store.
See the large fresh meat display in the background from the Ritchies Butchery, viewed at the back of the image showing more of the expansive grocery products sections.
Healthy Cereals section - Local Brands
This section is adjacent to the main muesli and oats isle and features a range of very healthy breakfast cereals from local Lake Macquarie brands Mulberry Tree and Plum Organic Foods.

Mulberry Tree brand breakfast cereals are made with whole food natural ingredients that will give your family a sustained energy further though the day. This is because the ingredients are natural foods and mainly low GI. These granola and muesli breakfast cereals are low sugar as they have no added sugar.
The Plum Foods breakfast cereals range feature majority organic or insecticide free ingredients, also with no added sugar.

Plum Foods also offer Organic Oats and Jumbo oats for beautiful creamy porridge as well as great Bircher muesli.

Give your family a great start to each day by adding one of these health breakfast cereals to your weekly shopping list.
Pep Tea - Organic, Sugar Free, Kombucha
Kombucha drinks are rapidly spreading for the popularity of their health benefits. This is because raw kombucha drinks, when brewed correctly, are loaded with kombucha probiotics that are very good for your gut health.

Humans often suffer from the life-long effects of consuming food and drink that is overloaded with the wrong fats, salt & sugars, plus artificial colours and flavours. Many things can contribute to destroying the good gut bacteria our bodies need and regular consumption of the right probiotics can rectify that.

As featured on ABC's landline, Pep Tea's kombucha is; Totally Organic, Sugar Free and raw. Its also loaded with genuine kombucha probiotics. Newcastle's own Kombucha, Its brewed right here in the Hunter Valley.

Ritchies carry all four flavours of the Pep Tea brand Kombucha, both in their drinks fridge near the front of the store and also in the grocery Isle with other drinks. Only $3.20 for a larger 350ml Bottle.

Food Sampling
Opera Foods of Warners Bay NSW will be sampling some of their unique gourmet brands on the Saturday morning of the 16th March and again on the 23rd March.

Come in and sample our products and ask our executive chef Aniko any questions about healthy meals, or organic foods and eating to boost your immune system.

Ritchies IGA New Lambton NSW.
Supermarket, Deli, Bakery & Bottle Shop.
(parking at rear)
Store address: 73 Regent St, New Lambton NSW 2305
Opening Hours: 7 days : 7:00 AM - 9:00 PM