Bay Cookies Merged into Bush Cookies
By: Admin On: 7 November 2018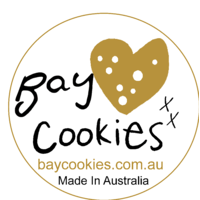 Local Australian cookies manufacturer, Bay Cookies of Warners Bay NSW, has now been merged into sister business Bush Cookies. The merged cookie and biscuit products will be unchanged including barcodes and only the brand logo is affected.
Australian biscuit & cookies manufacturer Bay Cookies, have been merged into fellow Opera Foods subsidiary Bush Cookies.

Bay Cookies' flavours which are mainly complimentary to the Bush Cookies products range will mostly be continued under the Bush Cookies label.

Parent company Opera Foods simply decided it was not practical to promote two brands and the Bush Cookies brand, (AKA, Aussie Bush Bickies) is a much more recognised brand.
This merger now takes the range of the Bush Cookies brand to eighteen different flavours including two Gluten Free products as follows: -

SINGLE LAYER BUSH COOKIES
Chocolate Chip
Ginger and Date
Macadamia Delight
Ginger and Macadamia
Freckle Bickie
Chocolate Freckle
Mini Freckle Bickies
Triple Choc Chip
Jam Drop Shortbreads
Butter Shortbreads
Anzac Biscuits
CREAM FILLED BUSH COOKIES
Coffee Creams
Passionfruit Creams
Vanilla Melting Moments
Salted Caramel Creams
Jam Sandwich Moments
GLUTEN FREE BUSH COOKIES
Passionfruit Creams GLUTEN FREE
Choc Chip GLUTEN FREE
Bush Cookies' gluten free cookies are manufactured in the family's separate (HACCP certified for gluten free) food factory in Sydney.
Bush Cookies gorgeous packaged gourmet biscuits are available at a growing number of Australian greengrocers, Delis and IGA stores now, (See our Stockists List).
Bush Cookies is a wholly owned subsidiary of Australian fine foods wholesaler/manufacturer Opera Foods Pty Ltd. Barcodes, ingredients and product names will remain unchanged, just the brand logo has changed