Plum Foods - Super Crunchy, Low Sugar Granola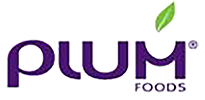 Plum Foods is long established premier quality Australian family brand for gourmet Breakfast Cereals, (particularly crunchy granola). Also toasted Granola, Vegan, Gluten Free and Paleo or Keto Granolas. Plus Bircher Muesli and Rolled Oats. We are Gold Medal winners at the prestigious international Great Taste Awards.
Plum Foods strives to find a balance between organic natural wholefoods and affordable price. Plum Foods uses 100% certified organic oats and pesticide free almonds, and strives to use other organic produce as a priority where available at a reasonable price.
Plum Foods products all contain a majority of ingredients by volume of organic and pesticide free produce. Plum Foods also offer private label breakfast cereal products as well as bulk supplies to other wholesale food distributors.
If you are a retailer, Please register and log-in to view wholesale prices.
.
---