Buy Kombucha In Bulk
By: Admin On: 28 June 2019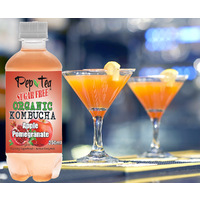 where to buy kombucha in bulk and save on volume purchases
Find where to buy kombucha in bulk online direct. Opera Foods are sole distributors of the Pep Tea brand organic kombucha tea in Australia. We sell kombucha in bulk cartons on-line from their online store. Pep Tea brand kombucha offer 4 different flavours of tried and tested kombucha drinks. Having tested multiple flavours over the years, Pep Tea culled multiple flavours and settle on the four flavours that were by far the best kombucha tea sellers.
Four best selling Kombuchas Flavours
Apple and Pomegranate
Ginger
Mango
LIme & Ginger.
Convenient Bulk Carton Size
Pep Tea have recognised that consumers like to get savings by direct bulk purchases and Kombucha drinks are no different. We found that cartons of 24 were too many to enable some bulk buyers to buy a carton of each flavour. As a result we changed our who opperation around to packing cartons of 12 units in each flavour to suit our online direct bulk purchase customers.
No Refrigeration Required
Some kombucha brewers that are less advanced with the brewing technology, manufacture a product that needs to be refrigerted at all times. This is not the case with Pep Tea brand kombucha. Pep Tea brand kombucha is "shelf stable" and does not need to be refrigerated untill after it is opened. So you can buy kombucha in bulk and keep it in the store room. Just add a few to the fridge as you go. You dont need a whole separate drinks fridge when you buy Pep Tea.
Raw Sugar Free Organic Kombucha
All flavours of Pep Tea brand Kombucha are Sugar Free. They are also 100% organic. Sure a kombucha brew starts of with organic sugar added to the fermentation but when it is brewed properly whith attention to the science, the sugars are all used up in the process and converted. (its really a matter of technology that not all of the cowboy brewers can manage). A True kombucha is also a raw unpasturised drink otherwise it does not produce the gut health benefit and is not really a kombucha. So buy Pep Tea kombucha in bulk and get the real health benefits.
High Quality Bulk Kombucha.
With Pep Tea Kombucha, a lot of customers say that they drink it for the taste. Pep Tea Kombucha is flavoured and it has a little natural sparkle, so its great on the taste buds. But in reality, people drink kombucha mainly because they also know they are getting great health benefits. When your drinking it for your health, why not drink a brand that you can trust to really get the science right and give you a consistently great product. Pep Tea brand was feature on ABC's landline documentary program last year due to its high reputation.

You can buy kombucha in bulk here and now in our online store in convenient cartons of 12 larger 350 ml bottles (many competitors are just 330ml bottles).
Pep Tea is a subsidiary of wholesale food suppliers Opera Foods Pty Ltd