Super Simple Japanese kani salad recipe
By: admin On: 16 November 2021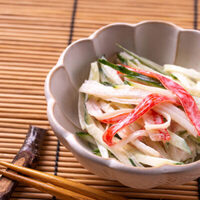 Japanese salad dish that is dominating Insta-feeds. Another great Asian Salad.
The latest Japanese dish to dominate our Insta-feeds is kani salad.
Super quick and easy to make, it is the ideal starter or side dish. Sandwiched within a crisp baguette, in a sort of banh-mi fusion mash up stylie, it will transport you to lunchtime heaven.
What is kani salad?
Kani salad is a Japanese shredded crab salad. You can use fresh crab meat (kani in Japanese) but there are times when imitation crab sticks (kanikama) are way better than the real deal. Surimi may not have the flavour of fresh crab meat but its ability to shred into strips is a textural joy.
At its simplest, and we think possibly best, kani salad has just three ingredients. Shredded cucumber, shredded crabsticks, and Japanese style mayonnaise. But you can add other crisp shredded vegetables such as carrots, cabbage, or radish. Asian slaw anyone? Mango is not unheard of, and many restaurants like to add a little flourish with fish roe or even panko breadcrumbs.
Kani salad dressing
Japanese mayonnaise is more similar to homemade mayonnaise. It is made with egg yolks, mustard, rice vinegar and oil. Rice vinegar is ideal for making mayonnaise, with its subtle sweetness and lack of harsh acidity. If you can't get Japanese mayo, use the best shop bought you can find.
A few drops of sriracha sauce added to the mayonnaise excites the palate with a little moreish heat. You can find out more about sriracha sauce in this article. Other subtle flavour additions such as lime juice and soy sauce enhance the flavour of the dish without overpowering its innate simplicity.
How to cut cucumber for kani salad
Cucumber is the star of the show in kani salad. Cool and refreshing, it is the perfect pairing for those shredded strips of surimi. Yet for such a simple ingredient, cucumber can be deceptively hard to work with. The high water content means it soon loses that crisp texture and it can leak out into a soggy mess. The skin is often bitter and indigestible. To combat this, peel the cucumber using a speed peeler. Then, slice the cucumber in half lengthwise and scoop out the centre bit with the seeds.
Chop into lengths the size of the crabsticks. Slice lengthwise into 3mm slices, then slice the slices into 3mm strips.
Here are a few tips for getting the best from your kani salad.
Use cold cucumber and shred as close to serving as possible. It won't sit well.
Same with the crabsticks.
Mix your dressing ahead of time so the flavours combine.
Toss the ingredients and dress the salad immediately before serving.
Japanese kani salad recipe
Serves 2, as a side or sandwich filling
6 crabsticks, shredded
1/2 large cucumber, shredded
3 tablespoons mayonnaise
1 tbsp rice vinegar
A squeeze of fresh lime
1 tsp Japanese soy sauce
1 tsp sriracha
Shred the ingredients and toss together.
Combine the dressing ingredients.
Mix together and serve immediately.
Try a kani crab salad sandwich
Try adding kani crab salad to a warm crisp baguette with shredded cabbage, carrot, and radish, plus fresh coriander, mint and parsley.
Explore our range of organic Asian groceries or head straight to our selection of Asian sauces.