Kids Party Ideas - Make Your Own Mini Pinatas
By: admin On: 28 August 2021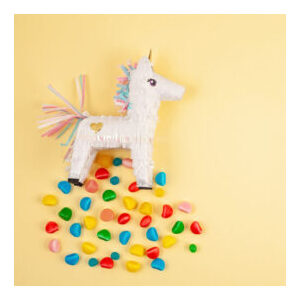 Lets look at making fun easy Mini Pinatas There is a wide scope for creativity in making mini pinatas, so let your imagination run riot.
Mini pinatas are a great idea for a kids party. You could make them yourself or, even better, get the kids involved for a total pinata party. If craft is really not your thing then you can buy ready made mini pinatas.
Why mini pinatas?
A full size pinata is ideal for a party but mini pinatas have a certain charm all of their own. Perfect for little hands, with none of the adrenaline fuelled competitiveness that can lead to tears, everybody gets to join in regardless. Or maybe you are going full-theme with an all out pinata party. Why not have a big pinata, individual mini-pinatas, and everything else co-ordinated too? Think matching iced cookies or cupcakes, shaped sandwiches cut with cookie cutters, and of course themed decorations.
Making mini pinatas can be as simple or as complex as you want it to be. You could make them yourself ahead of the big event, perhaps getting the children involved, or you could make it a party activity in itself. It would certainly keep the kids quiet for a bit.
What we like most is the scope it gives you with the pinata lollies. Whilst a full size pinata calls for individually wrapped lollies, the individual version could include smaller lollies. The free-flowing kind that will cascade onto the table in a shower of sweets.
Guests can break open their pinatas at the table, or take them home as super special lolly bags.
How to make mini pinatas
There are several ways to make a mini pinata, and the internet is filled with step by tutorials. Like their larger brethen, they are simply an easily breakable container decorated with tissue paper. It needs an opening for pouring in the sweets, a handle to hang it by, and a way to break it open. Some mini pinatas are designed to be broken open with a stick but this does seem a little laborious. Therefore we would suggest that a pull-string is definitely the way to go.
The most complicated ones are made with cardboard cut outs. Stuck loosely together with tape and decorated with tissue paper fringes, the pull string is attached to a flap in the bottom. Older children might enjoy the challenge of building these.
Simpler designs can be made with paper cups, tissue paper and elastic bands. Then there is the easiest of all; the paper bag pinata.
How to make a paper bag pinata
Paper bag pinatas seem to be designed to be broken open with a stick, but with a few alterations can easily be made with a pull-string.
Not wanting to state the obvious, but about to anyway, the first thing you will need is a paper bag. The type like a grocery sack, but smaller, is the one most often used. They are a good shape, and really simple to use, but the brown paper is fairly thick so you will need a little creativity to fashion the pull string mechanism.
The thinner kind, shaped more like a square bag than a sack, could be more suited to the pull string. Simply stick the string or ribbon onto the bottom, and it should break the bag easily. Just make sure it is secure enough to stick well.
Essentially the bag is filled and the top is turned over and secured. Two holes are punched at the top and string attached to create a handle. The bag is then decorated with tissue paper cut into fringes.
There is so much scope for creativity with these mini pinata, you can really let your imagination run riot.
What to put in a mini pinata
Lollies of course! Lots of colourful mini lollies that will create a spectacular shower like a pinata should. Wrapped lollies may be the way to go for the sake of hygiene, but nothing says pinata like a multicoloured rainfall of M&Ms.
It has to be pink jelly beans for your unicorn pinata, maybe with a few of these pink chocolate hearts thrown in.
Or how about keeping it classic with M&Ms? We've got M&M minis to buy in bulk, or 1kg bags of large M&Ms too.
We have plenty of ideas for cheap bulk pinata candy, and if you are shopping for wholesale lollies consider our wholesale groceries, you have come to the right place.