Mulberry Tree New Roasted Almond Crunch Granola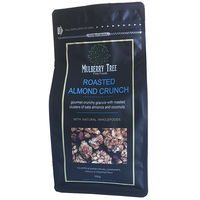 Mulberry Tree fine foods have launched their new granola, Mulberry Tree - Roasted Almond Crunch. A crunchy new muesli mix by request
Mulberry Tree's Roasted Almond Crunch is described as a super crunchy granola with double baked clusters of oats almonds and coconut. Its described as a budget version similar to the famous award winning Maple Nut Crunch produced by their sister brand Plum Foods.
The launch of the new Roasted almond Crunch mix co-inside with the launch of their new look packaging .
Their product labels still have their same unique colours of old, however the bag is now resealable to keep it fresher for customer right up to the last breakfast, and supermarket and home storage friendly with a stand up box bag
Mulberry Tree Roasted Almond Crunch comes in a 500g re-sealable bag and will shortly be available form your nearest gourmet grocer.