Opera Foods announces new Asian Organics Division
By: admin On: 8 January 2021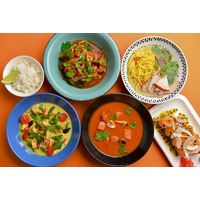 New Asian Groceries division supplies Organic Asian sauces, pastes, condimements and spices. Asian Organics is your Australian wholesale distributor of certified organic flavors and Asian cuisine ingredients
Opera Foods has teamed up with Thai and international organic food producer Agtrade International to import authentic Asian sauces, pastes, condiments and spices that are certified organic through its subsidiary Asian Organics.
Opera Foods Pty Ltd is an Australian food manufacturer, importer, distributor and wholesale gourmet grocer who also sell online direct to the public. Agtrade is a recognised food chain supplier throughout Asia and exports to a growing list of other countries.
Opera Food's subsidiary Asian Organics is a registered Australian Business that focuses on Asian foods particularly grocery lines that users can keep in their pantry to create authentic Asian cuisine.
Organic Asian flavours are offered for; stir fry sauce, soy sauce, rice vinegar, chili sauce, sweet chili sauce, green curry paste, red curry paste, pad thai sauce, thai green curry paste, chili paste and more.
The product range are all certified USDA Organic and EU Organic.

Initial Asian Organics brand products will be available for delivery late Jan 2021. The products can now be pre-ordered by health foods stores and asian grocery retailers.
For product information, for Asian food recipes see the brand label website Asian Organics. For online direct to consumer orders see the Asian grocery category page on the parent company ecommerce website.
For wholesale supply to your store of the Asian Organics range please register for wholesale access at Opera Foods or contact Asian Organics direct on PH: 02 9057 3454 or AH: 04 1726 3933