Organic Kombucha Tea- From Foodservice Distributors Opera Foods
By: Admin On: 1 April 2017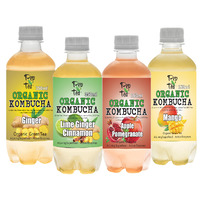 Healthy Organic foods will make a big difference in your life. Opera Foodservice distributors now supplying Kombucha tea direct.
Opera Foods are Wholesale Distributors of Organic. Kombucha Tea
Our new organic Kombucha Tea flavours are high quality Australian made iced green tea kabucha brewed by Pep Tea in the beautiful Hunter Valley in NSW., and come in four great flavours; Ginger, Mango,Lime Ginger Cinamon, and Pomagranate Apple.
Kombucha is a symbiotic culture of beneficial bacteria & yeast. The first documented brewing of Kombucha was in China in 221 BC. Over the centuries there have been many claims made about the health benefits from drinking this amazing elixir.
Our Organic Kombucha is FREE FROM: Caffeine, Gluten, GMO, Lactose, Fat , Preservatives. and also is
LOW CALORIE, LOW CARBS , LOW GI. Its affordabler and a much better alternative than sofdrinks for your healths sake.i

The Mother, or mushroom, as it is sometimes referred, is very much like a pancake floating on top of a brew of sweetened organic tea. After a couple of weeks the brew is converted to beneficial enzymes, probiotics, anti-oxidants, minerals & organic acids. This incredible cocktail, consumed on a daily basis will help to balance your gut flora and assist liver function enabling your body to eliminate toxins and boost the immune system.

Our bodies have an amazing ability to heal ourselves given the correct fuel. Kombucha ticks all the boxes, and is considered one of the Superfoods, Pep Tea's Kombucha is 100% organic, raw & alive (Not Pasteurized).

NUTRITIONAL PANEL for Kombucha Green Iced Tea
AVERAGE QUANTITY AVERAGE QUANTITY
PER 350ML BOTTLE PER 100ML
ENERGY 136.5 kj 39kj
PROTEIN 00 00.
TOTAL FAT 00 00.
CARBOHYDRATES 10.15g 2.9g
SUGARS 9.45g 2.7g
SODIUM 17.5mg 5.0mg

KOMBUCHA typical composition
Bacterium gluconicum Bacterium xylinum
Acetobacter xylinum Acetobacter xylinoides
Acetobacter Ketogenum Saccharomycodes ludwigii
Saccharomycodes apiculatus Schizosaccharomyces pombe
Zygosaccharomyes Saccharomyces cerevisiae
Acetic acid - Acetoacetic acid Benzoic acid - propenyl ester
Benzonitrile - Butanoic acid Citric acid - Cyanocobalamin
Decanoic acid - Ethyl Acetate Fructose - d-Gluconic acid
Glucose - Hexanoic acid Itaconic acid
2-Keto-gluconic acid 5-Keto-gluconic acid
2-Keto-3-deoxy-gluconic Lactic acid Niacinamide
Nicotinic acid Pantothenic acid
6-Phospho gluconate Propionic acid
Octanoic acid Oxalic acid
Riboflavin d-Saccharic acid - (Glucaric acid)
Succinic acid Thiamin
plus 40 other acid esters in trace amount. Acetobacter aerobic produces acetic acid & gluconic acid and pellicle/cellulose

ALWAYS FOUND IN KOMBUCHA
Saccharomyces boulardi aerobic or anaerobic
Brettanomyces aerobic or anaerobic or acetic acid
Lactobacilus aerobic produces Lactic Acid
Pediococcus anaerobic produces Lactic Acid
What has been determined to be universally common to all strains of Kombucha Mushroom Tea is gluconic acid, acetic acid and fructose in a refreshing semi-sweet elixir.

YEASTS
Zygosaccharomyces kombuchaensis. Common to all kombucha
For further information please contact national foodservice distributor Opera Foods Pty Ltd