Pep Tea Kombucha Featured on Landline
By: Admin On: 21 June 2018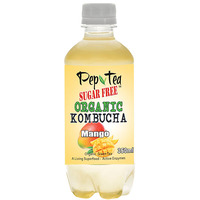 Pep Tea's Kombucha flavors are all natural and certified organic. ABC's Landline tells the story about Pep Tea's brewer Jeff Low.
Pep Tea organic Kombucha is brewed and bottled by Australian brewmaster Jeff Low as featured on ABC's Landline as one of the real raw and natural probiotic filled Australian organic kombuchas that are shelf stable and requires no refrigeration untill opened.
Jeff believes the industry needs to be regulated to stop fake kombuchas with probiotics added to mixtures at the end of the process that are not really kombucha drinks.
Pep Tea Kombucha Featured on Landline - View the Landline feature on Kombucha in Australia

Australian Organic Beverages - ABC Landline
Pep Tea is a division of Opera Foods Pty Ltd. For more information about the Landline review see or more information on Kombucha see the review on Pep Tea's website.