Superfood Porridge with Almonds Hemp Seeds & Banana
By: Admin On: 14 June 2019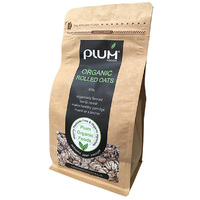 Porridge is not just a winter breakfast stable. With Superfood porridge ingredients it can be a nutrition powerhouse in your pantry
Here is a superfood porridge recipe made from organic oats and superfood ingredient toppings to boost the nutritional value.
Ingredients for Superfood Porridge:
1 cup of Plum Foods organic Rolled oats.
1 teaspoon of Boost Nutrients organic Banana Powder.
1 teaspoon of Boost Nutrients Organic Hemp Seeds.
2 Teaspoons of Almonde Raw Pesticide Free Almonds
1 1/2 cups of Water, Milk, or Almond Milk.
Method for oaten Superfood Porridge:
Add your organic rolled oats to your saucepan. .
Add your chosen liquid either milk, almond milk or water. Stir your porridge for 5 mins as you bring it up to the boil.
Add your organic banana powder and stiring it through.
Then spoon it into you breakfast bowl and top with Almonds after chopping and your other superfood ingredients.
There are many variations to this easy healthy breakfast, form the Boost Nutrients ingredients range. All of these above ingredients are stocked by Australian wholesale food Suppliers Opera Foods. You can buy them online direct to the public and have them delivered (overnight to most major metro suburbs).