Wholesale Popular Bagged Confectionery
By: Admin On: 4 January 2017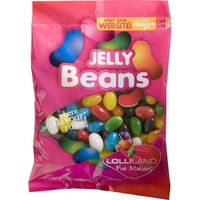 Stock the most popular confectionery products. Hanging bags of lollies at your checkout attract a lot of impulse sales, especially classic lolly flavours. Opera Foods picks the best selling classical lollies
Opera Foods Pty Ltd exclusive national distributors of The Lolly Shop brand confectionery have added to their confectionery range with the 11 most popular impulse buy hanging bags of lollies.
Retailers have asked for more of the most pupular confectionery in mini bags of mixed lolly products and Opera Foods have responded by taking on distributorship of the Lolliland range.
Opera Foods have chosen to start with eleven of their best known classic candy products from their Cadbury and Fresha range of Mondelēz International and other imported American sweets brands.
The initial range includes easy hanging display bags of Australia's classical favorites :-
150g Caramel Popcorn
250g Hard Jubes
200g Jersey Caramels
180g Licorice Allsorts
225g Jelly Beans
225g Snakes
225g Party Mix
225g Mint Leaves
225g Strawberries and Cream & Rasp
180g Sour Worms
175g Pink and White Marshmallows
Boxed in units of 12 to 24 packs per carton, we believe this range is a good starting place and encourage customers who would like more variety or bulk packs to ask.
Opera Foods are also well known for their Gourmet Granola brands, and cookies and supply cafes Australia wide with award winning crunchy granola.
Delivery will be availabe from 15th Jan 2017. For retailers wanting more information about our confectionery range please contact distributor Opera Foods Pty Ltd on 02 49544100
---
Leave a comment