Fig & Apricot Bircher Muesli with Yogurt & Berry Coulis
By: Aniko Silk On: 25 November 2018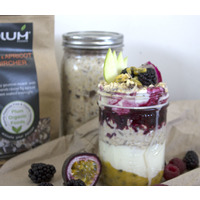 Dr Bircher-Benner specialised in nutritional research and opened a sanatorium in Switzerland in 1897 where he recommended his famous healthy muesli. Bircher Muesli has been eaten as a healthy meal ever since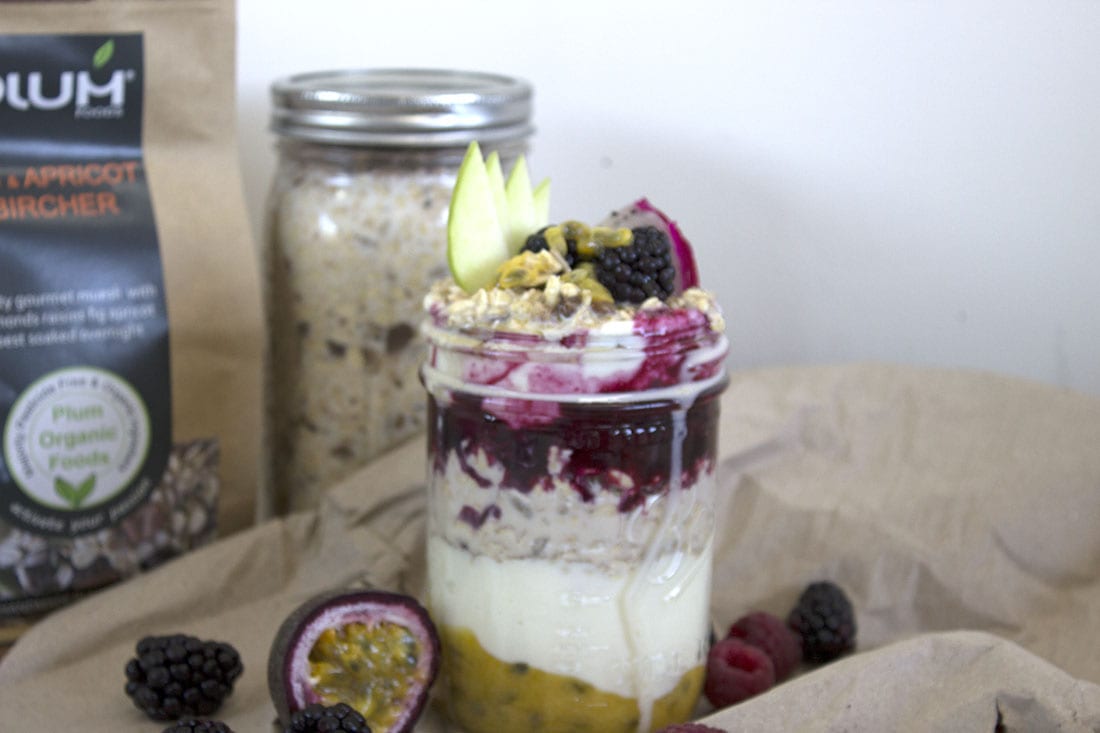 Try a Fig & Apricot Bircher muesli with yogurt and a berry coulis. This Bircher muesli recipe,is the famous Dr Bircher's health muesli based on raw oats fruit & nuts and soaked in milk.
The Plum Foods brand Fig & Apricot Muesli already comes pre-mixed with organic oats some dried fruits and healthy pesticide free Australian Almonds, so you have Dr Birchers Muesli when you simply add milk. However, this recipe calls for some extra fresh fruit and a bigger dollop of protein rich yogurt.
INGREDIENTS:-
100g Fig & Apricot Bircher muesli from Plum Foods
120g Low Fat Yogurt
Fresh Raspberries
Fresh Blackberries
Fresh Blueberries
3 Passionfruit
Sliced fresh Apple
60g of fresh fruit coulis
Milk to your taste

Soak your Plum Foods Fig & Apricot Bircher Muesli in milk, Overnight is nice but not essential.
Make a quick fresh fruit Coulis from raspberries, blackberries and blueberries. (Resist the inclination to add sugar. Sweeten it to taste by using a higher ratio of blueberries).
Add most of your passionfruit pulp and half of your yogurt to a jar followed by the soaked muesli and your Coulis and the rest of your yogurt. Top it with whatever you have left of the fresh fruit and garnish with a slice of Apple. Make sure you wash the fresh berries.
Red Raspberries contain strong antioxidants such as vitamin C, quercetin and gallic acid that fight against cancer , heart and circulatory disease and age-related decline. They are high in ellagic acid, a known chemo preventative, and have been shown to have anti-inflammatory properties.

Blackberries are full of vitamin C but are low in calories and sodium. They are an excellent source of both soluble and insoluble fibre.

Blueberries Blueberries are among the most nutrient-dense berries and are one of the top Antioxidant foods.

Yogurt is rich in probiotics and loaded with animal protein , plus several other nutrients found in dairy foods like calcium , vitamin B-2, B-12, potassium , and magnesium.

Plum Foods is a divisions of Opera Foods. Find an Opera Foods stockist near you. Plum foods make a range of low sugar, natural wholefood roasted granola and muesli breakfast foods as well as organic oats for porridge. See my article on what makes a good Granola different.