Is Granola Different To Muesli
By: Aniko Silk On: 30 May 2018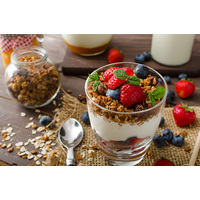 There are a lot of similarities but Muesli is a mostly a dry mix of ingredients including Bircher mixes, whereas a Granola mix is carefully toasted to bring out the flavors in the nuts, grains and seeds but there is more to it to make them crunchy
A definition of granola quoted from wikipedia.org says: - "Granola is a breakfast food and snack food consisting of rolled oats, nuts, honey or other sweeteners such as brown sugar, and sometimes puffed rice, that is usually baked until it is crisp, toasted and golden brown.
During the baking process, the mixture is stirred to maintain a loose breakfast cereal consistency. Dried fruit, such as raisins and dates, and confections such as chocolate are sometimes added. Granola, particularly if it includes flax seeds, is often used to improve digestion. Granola is often eaten in combination with yogurt, honey, fresh fruit (such as bananas, strawberries or blueberries), milk or other forms of cereal. It also serves as a topping for various pastries, desserts or ice cream.
Granola is carried by people who are hiking, camping, or backpacking because it is nutritious, lightweight, high in calories, and easy to store (properties that make it similar to trail mix and muesli). As a snack, it is often combined with honey or corn syrup and condensed into a bar form that makes it easy to carry for packed lunches, hiking, or other outdoor activities."
Origins of Granola
Granola was originally invented in New York, by Dr. James Caleb Jackson at the Jackson Sanatorium in 1863, a prominent health spa. Essentially the difference between Granola and Muesli (and there are numerous variations in ingredients for both of these easy healthy breakfast cereals), is that granolas are toasted to enhance the flavours of the grains, nuts and seeds. Granola became a generic term for muesli style cereal products that were sold as a pre-toasted product.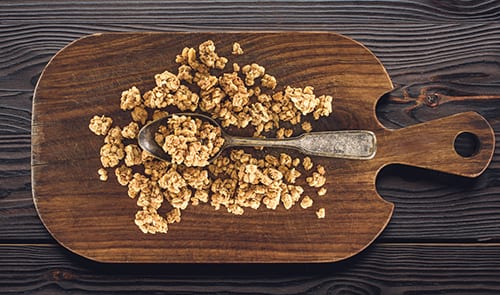 I believe that the best wholefood granolas are based on Rolled Oats and Australian Almonds, as well as other selected grains, seeds, nuts and dried fruits. After that, its all about the method of toasting to enhance the flavours and making them into crunchy clusters that taste good.
Health Benefits of Granola
Whilst the health benefits of Muesli and Granola products have always been well known, until recent years commercial versions of granola have often been loaded with sugar to make them cheaper and more popular with children. Even today many of the majors still produce breakfast cereal products that are just overloaded with sugar
The real health benefits from eating granola are similar to that of Muesli. as they are based similar ingredients, but they are really about the quality of the ingredients. Good quality grains, nuts, seeds and dried fruits are what make the healthiest granola products really good for your health and vitality. So they are not the cheapest breakfast cereals, but they will improve your health whereas those overloaded with cheaper ingredients and too much sugar may be detrimental to your health.
Refined Wholefood Gourmet Granola
Opera Foods' breakfast cereal brands; Plum Foods and Mulberry Tree are based on high quality ingredients. We pride ourselves in wholefoods for easy healthy breakfast recipes that are nutritionally balanced to give you energy that will sustain you longer. Our range of granolas will improve your health and wellbeing, and particularly are granolas that are really crunchy, tasty and toasted to perfection to bring the best out of the nuts grains and seeds. Our granolas are so crunchy, your family will definitely eat them as snack food, straight out of our freshness re-sealable foil lined bags. If you really love crunchy, then first try Maple Nut Crunch or Spelt and Agave Nut Crunch or Roasted Almond Crunch
How to Make an Easy Healthy Breakfast of Granola
There are so many quick and easy ways to decorate and present an already tasty crunchy granola. You will discover your own new yet simple variations that enables all members of the family to have their custom version of what they like best and they might love to experiment.
For A High Energy Easy Healthy Breakfast
Our granolas are mainly based on Almonds and Oats, a whole grain product, which contains loads of complex carbs, your body's main source of energy. The high energy diet fuel you get from complex carbohydrates will significantly outlast than those from other refined-grain foods. Oatmeal is also high in fibre, which digests slowly and so extends the time you feel full. They are also based on Australian Almonds which have healthy fats. Fresh Fruit can also increase your intake of nutrients and give your granola variety.
For an Easy Tasty High Protein Breakfast
Protein makes your muscles grow and your hair and nails shine. Muscles burn more calories at rest than what your fat does, so muscle tissue is important for a healthy, fast metabolism. To ensure you're getting sufficient protein in your daily diet, try a 100 gram serve of our real wholefood gourmet granola as a base for your easy healthy breakfast and top with protein rich foods.
Protein is the slowest digested macro nutrient so, adding it to your granola will keep you fuller for longer and reduce your hunger pangs. Ideas for boosting your granola to and even higher protein meal are easy: -
Eat with milk or almond milk. Milk is naturally high in protein Almond Milk is even higher.
Our Granolas are already rich in seeds and nuts particularly almonds but more seeds and nuts such as Chia Seeds, Flax seeds, Pepitas, and Walnuts can increase the protein content.
Serve with Yogurt. Yoghurt is very high in protein. Choose a brand with no added sugar.
Add egg whites. Egg whites are very high in protein and have hardly any carbs. Add them to the milk or to the Yoghurt and mix in well.
Select fresh fruits that are high in protein such as: - guavas, apricots, kiwifruit, avocados, blackberries, oranges, bananas, raspberries, cantaloupe and peaches.
Add Protein Powder. if you're really into protein you could even sprinkle with protein powder.
Perfect Granolas
Whatever your style, give your busy family an easy healthy breakfast from a gourmet granola with high quality ingredients in a perfect crunchy toasted granola. Give them the energy to sustain them further during the day with a wholefood, low GI ingredient granola from Australia's Plum Organic Foods P/L or from Mulberry Tree.
Aniko Silk is the Executive Chef at Opera Foods Pty Ltd, manufacturers of the Australian Plum Foods and Mulberry Tree cereal food brands. For more information about our healthy cereals and granola and our easy healthy breakfast recipes, contact Opera Foods on 02 4954 4077 or buy direct now through the Opera Foods' online bulk grocery store.