Sugar Content of Popular Cereals
By: Aniko Silk On: 2 April 2018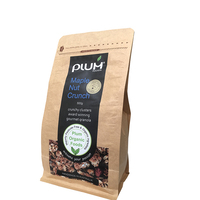 Compare high sugar levels in popular breakfast cereals. Who would give a child a regular breakfast food that is more than 25% sugar?
The sugar content of some popular cereals and breakfast foods is quite alarming, as many have a lot of sugar added. Some that have dried fruit have naturally occuring sugars from the fruit, but that alone usually wont get you over 15% sugar content.
When reading the nutrition panel it is best to just ignor all columns that might decieve you, except the column that shows the content per 100g as this gives you the percentage of sugar in the product. ie. 15g per 100g is 15% sugar. Who would let a child regulrly eat a breakfast product that is over 25% sugar?
Granola or muesli can be a quick easy healthy breakfast but not with all that added sugar. That is NOT a healthy breakfast.
Below is a list of some of the popular breakfast foods with higher sugar content. Notice how poorly they compare with the products of Australian gourmet breafast cereal manufacturers, Mulberry Tree and Plum Foods at the botom of the list. Sugar in cereals is over the top.
Brand
Product
Percent Sugar
Dick Smith

Bush Foods Breakfast

23.30%

Dick Smith

Bush Foods Muesli

24.20%

Kelloggs

Nutrigrain
26.70%

Kelloggs

Froot Loops

41.70%

Kelloggs

Frosties

41.30%

Kelloggs

All Bran Wheat Flakes Honey Almond

39.00%

Kelloggs

Cocoa Pops

36.70%

Kelloggs

Nutrigrain & Cocoa Pops Chex

32.00%

Kelloggs

Crunchy Nut Corn Flakes

31.70%

Kelloggs

Just Right Original

31.10%

Kelloggs

Komplete Oven Baked Muesli

29.60%

Kelloggs

Special K Forest Berries

25.70%

Kelloggs

Sultana Bran

22.70%

Kelloggs

Sultana Bran Crunch

28.40%

Kelloggs

Sustain Selection

19.80%

Kelloggs

Sustain Original

20.40%

Nestle

Nesquick,

31.70%

Nestle

Cheerios

21.70%

Nestle

Milo

31.30%

Sanitarium

Granola Clusters Blueberry & Apple

22.80%

Sanitarium

Honey Weets

25.00%

Sanitarium

Light'n'Tasty Apple & Cranberry

23.50%

Sanitarium

Light'n'Tasty Apricot

31.30%

Sanitarium

Light'n'Tasty Mango & Passionfruit

23.50%

Sanitarium

Light'n'Tasty Triple Berry

31.30%

Sanitarium

Weet Bix Crunch

20.30%

Uncle Tobys

Oats Temptations Sultanas, Apples & Honey

34.00%

Uncle Tobys

Plus Sultanas 'n Bran

32.40%

Uncle Toby's

Fruity Bites Wildberry

24.30%

Uncle Toby's

Fruity Bites Apple & Vanilla

24.60%

Uncle Toby's

Fruity Bites Mango & Passionfruit

24.60%

Uncle Toby's

Healthwise for Heart and Circulatory System

30.00%

Uncle Toby's

Oats So Tasty

29.30%

Uncle Toby's

Oats Temptations Selections

29.30%

Uncle Toby's

Oats Temptations Sultanas, Apples & Honey

34.00%

Uncle Toby's

Plus Sports Lift

22.00%

Uncle Toby's

Plus Muesli Flakes

24.00%

Uncle Toby's

Plus Anitoxidant Lift

28.00%

Uncle Toby's

Plus Crisp 'n Crunchy

24.40%

Uncle Toby's

Plus Fibre Lift

26.00%

Uncle Toby's

Plus Protein Lift

25.30%

Weight Watchers

Berry Flakes

26.30%

Weight Watchers

Fruit & Fibre

30.70%

Weight Watchers

Fruity Muesli

20.80%

Weight Watchers

Tropical Breakfast

30.20%

Woolworths

Home Brand Cocoa Puffs

44.00%

Woolworths

Home Brand Fruity Rings

25.00%

Woolworths

Select Natural Muesli Apricot & Almond

24.80%

Woolworths

Select Natural Muesli Peach & Pecan

23.00%

Woolworths

Select Toasted Muesli Café Style

23.60%

Woolworths

Select Toasted Muesli Classic Crunch

21.30%

You'll Love Coles

Cocoa Puffs,

44.00%

You'll Love Coles

Muesli Apricot Date & Almond

21.00%

You'll Love Coles

Muesli Summer Fruits

26.80%

You'll Love Coles

Right Start

25.80%

Mulberry Tree
Hinterland Bircher Muesli
13.5%
Mulberry Tree
Roasted Almond Crunch Granola
9.7%
Mulberry Tree
Toasted Honey Macadamia Granola
4.7%
Plum Foods
Gluten Free Maple Nut Crunch Granola*
13.1%
Plum Foods
Maple Nut Crunch Granola*
8.9%
Plum Foods
Cranberry Crunch Granola*
13.3%
Plum Foods
Fig & Apricot Bircher Muesli*
11.2%
Plum Foods
Spelt Agave Crunch Granola*
9.4%

*Plum Foods products are Majority Organic ingredients

Aniko Silk is the Executive Chef at Opera Foods Pty Ltd, Australian manufacturers & distributors of fine food products. For more information about sugar content of Plum Foods breakfast cereals, or Mulberry Tree granola or Muesli contact Opera Foods on 02 4954 4077 or buy direct through the Opera Foods online gourmet grocery store